1. Sustainability Problem: 40% of traffic in city centers is caused by drivers looking for parking spaces. This gridlocked inertia is a universal frustration creating increased congestion, noise and pollution in areas where citizens live and work. Barcelona, Spain had been facing this issue for a long time.
Category: Energy, Waste
2. Solution implemented: Smart parking using IoT sensors, apps and innovative traffic routing
http://datasmart.ash.harvard.edu/news/article/how-smart-city-barcelona-brought-the-internet-of-things-to-life-789
https://www.theguardian.com/cities/2016/may/17/superblocks-rescue-barcelona-spain-plan-give-streets-back-residents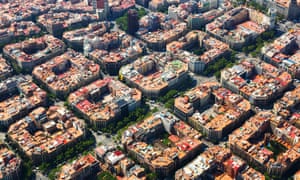 Barcelona has been a pioneer in implementing IoT and smart technologies to improve civic service. As a part of it, they have identified traffic congestion as one of the areas to be worked on.
Using smart sensors, display boards and apps, drivers can locate nearest empty parking spot, park and get a parking receipt over the app.
Barcelona has also also come up with a design solution, to identify a group of city blocks (called superblocks) and allows traffic only in its perimeter, thereby reducing traffic congestion in the inner crossroads of the superblocks. (https://www.youtube.com/watch?v=ZORzsubQA_M)
3. Organizational Stakeholders: City Government, Community leaders, technology vendors
4. Steps for deployment:
Identify locations across the city where this technology can be implemented in.
Educate communities and citizens to accept the changes taking place in their neighborhood.
Increase Internet connectivity across the city, to help drivers connect with the app easily.
5. Comment on another blog: 
https://makeasmartcity.com/2017/10/26/improved-policing-through-cloud-based-technology/comment-page-1/#comment-1285